I've been writing to the
list of companies
based in Arizona asking them about their stand on the adoption of racist Apartheid laws and including the following:
Ethically, I can't continue to support a company based in Arizona unless they publicly speak out against this horrible new law. Will you do this or does your company approve of the new law?
I received the first response back from GoDaddy.com. If you will notice it DOES NOT say anything against the law other than we didn't do it and I'm guessing the comment about free speech reveals more about their approval of the law than against it. So feel free to draw your own conclusions from the letter. I'm moving the last of the domains I have with them and will quit recommending them to customers.
Letter from GoDaddy:
Our Office of the President has responded to your request, details of which are described below:
Discussion Notes
Office of the President Response
Dear Ms.xxxxx,
Thank you for contacting GoDaddy.com. Your correspondence has been directed to the Office of the President.
We appreciate you taking the time to contact our office to share your opinion about the recent State of Arizona legislature. Although we wish your opinion in this matter did not affect your relationship with Go Daddy, please know your feedback is highly valued.
At GoDaddy.com, we strongly believe that the freedom to express one's opinions is one of the defining factors that makes the United States a great nation.
Please also know that Go Daddy has multiple locations in several states and countries abroad. Furthermore, understand that Go Daddy did not create nor influence the state legislature in question. As such, we hope you will re-evaluate your final determination about your relationship with GoDaddy.com.
Should there be any other matters requiring the attention of our office, please do not hesitate to bring them to our attention.
Kindest Regards,
The Office of the President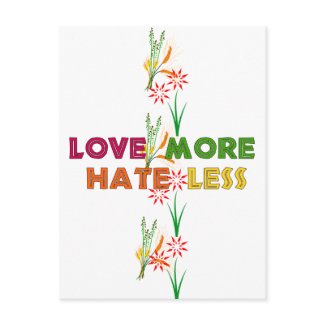 Love More Hate Less
by
orsobear
Browse more
Peace Postcards