I like to give people the benefit of the doubt, but lately I'm coming to the realization that extremism is synonymous with stupid. You sure as hell won't see an Atheist come knocking on your door demanding you become an Atheist.
But every crazy ass christian thinks they have the right to bother me with their ridiculous fairy tales. They memorize a few phrases that suit their agenda and discard everything that doesn't (Do you hear me, you gay hating shrimp eaters?)
These same so-called Christians have read very little of the Bible and instead rely on some unholy intermediary to mainline them meaty chunks from the pulpit--along with an underlying political agenda cloaked in the dubious morality of religion. Atheists aren't nearly that stupid, and most of them can actually read an entire book all by themselves. And gasp! Think for themselves, which makes them mostly immune to religion.
As an Atheist who prefers to mind my own business, I have no desire to go invading their churches with my ideas and opinions of how the world should work according to me, but their intolerance and fear of anything different regularly sends them to my
Godless Heathen store
for no purpose other than to inflict their religion on me.
This is what I mean when I say extremists are stupid. Do they really think they can annoy me into giving up my ideas for theirs? Do they really think that by flooding my comments section with stupid crap (usually filled with "creative" spelling), they can convince me of anything?
They have done more to destroy religion with their intolerant and mean shit than any Atheist could have done, and yet they fail to see this. They fail to see when a church gets involved in politics, they are no longer a church. They are a political arm of lobbyists and proponents of agendas that see them as no more than tools to be used to gain wealth and power. No Atheist would allow themselves to be used so stupidly.
They've also pretty much destroyed the whole god is love argument with their use of religion to justify hatred, intolerance, bigotry, and the subjugation of the poor and helpless. Somehow they've convinced themselves that religion means keeping people from having things they don't want.
The idea that
if you're against abortions don't have one
, or
don't marry a gay person if it freaks you out that much
, is alien to them. How would they feel if I denied them the right to eat chocolate ice cream ever again because I prefer vanilla? How is it any freaking different than what they're try to inflict on everyone?
But this extremism doesn't stop with religion. Take
this idiot
for example, who wanders into a store for Child-Free by
Choice
and calls the store owner a douche bag. Does he think that's going to make those who've made that choice suddenly decide he's right and they should breed like fucking rabbits? Or does it more than likely say, as the response pointed out, that misery loves company and he can't stand that someone else is having fun he can no longer have?
Once again, rather than change anyone's mind, this extremist idiot has only succeeded in pointing out his intolerance, his misery, and his flat out jealousy over not knowing he had a choice until it was too late.
I have a mind and I'm not afraid to use it, nor do I allow anyone to do my thinking for me. That means I'll never succumb to religious dogma or embrace hate as my personal savior. I like having my own mind.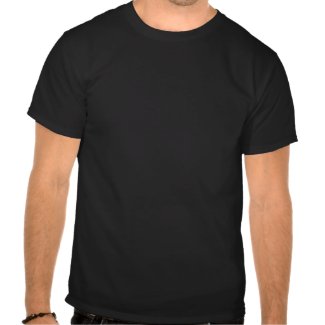 Think Therefore Dangerous
by
humor_shirts
Browse other
Humor T-Shirts
I try and not let the extremists get to me because like all phases of existence, they too shall pass. One of these days they'll take that book written by people who believed the earth was flat, and ride off the edge of the planet like strings of lemmings following each other into the abyss. Once there, away from all the nice people in the world, they'll have nothing better to do than turn on each other and leave the rest of us alone.