We've never met in person, but our virtual friendship is entering the twenty year mark, long enough for both of us to forget we never actually met in person. But that's the internet and I am grateful that it brought us together that day on a long defunct literary discussion list. From fifteen women, we are down to a handful. Literally a handful. We can count each other on one hand.
Over the last couple decades we've shared our lives with thousands and thousands of words. They've described love, life, death, rebirth, the good, the bad, the indifferent, and tears of joy, of sadness, of despair, and of loss. We've grieved the death of our literary sisters. We've lamented, cursed, and screamed at growing old, not for vanity or the loss of our youth, but because it takes away those we love. If you live long enough, you become a survivor by default and it's often a sad place to be. There is no victory in it, just the whimsical nature of time and the hand you are dealt.
And sadly now, my friend is in her final weeks. Last week she decided to end all further attempts to heal her and is instead focusing on what she calls "the end game." We've both lost enough friends to breast cancer in the last decade to know it's not a fight to lose because she never picked cancer as an opponent. It just happened to her as it happens to far too many women. To call it a fight implies a loss or victory to the opponent. No. It is simply a change, a transition from living to dying. She's a purist that way. Throughout it all, she's focused on living and not on dying. She's wanted to be addressed and acknowledged and loved as a living human being, not one who is dying. Victory to her means her friends and those she loves are able to forget what is going on in her body and focus on her the way they always did.
She refuses to be called brave because she says she is not. She does what the doctors tell her. She listens to what her body wants and does not want. As another of our friends who died last year said, who she is becomes far more important than what is happening to her. Rather than brave or courageous or strong or winning and/or losing, she prefers the term "growing." I have loved watching the process of her coming into her own as a woman, as a friend, as a delightful human being.
Yes, the sadness over eventually losing her is often hard to feel, but honestly, the same can be said for all my friends. Once you hit those later years, the sixties, the seventies, losing friends becomes far more common than we ever realized. We become better at saying goodbye. We become better at helping. We become better at cutting through the crap and learn to just be with each other.
While I really believe we have become better as a culture at accepting that death is an inevitable part of living, there are certain issues that still need perfecting, and one of those is pain management. There is absolutely no reason my friend or anyone should have to suffer pain at the end of their life. And yet they do. I've asked my friends in the medical professions how this is possible, how is it that with all our advances, the only option for pain management at the end is either suffering so you can stay conscious as long as possible, or such heavy doses that you are virtually in a coma until you transit from here to some other reality.
I've heard many answers and the most common seems to be our dance with morality. We are taught certain drugs are bad and unbelievably there's still those who would deny the full range of pain medication to the dying because they don't want to make them addicts. Seriously. I'm not joking. There are moralists who would rather see someone in pain than risk making them addicts just before they die. This is just fucked up in so many ways.
Then there's the whole money/research issue. Life is for the living and so we focus the funds on helping the living and not the dying. Medicines are developed for profit and pain medications are relatively cheap compared to chemo drugs, so the dying get filled up with those and have to suffer in pain. My friend has learned to be insistent to not feeling pain and also not being out of it until it's time to be out of it.
This worked well until a couple days ago when she lost the ability to speak and can barely type. Now she is dependent on what others think is good for her instead of what she needs and wants. This is in spite of reams and reams of last wills, living wills, final directives. At some point, the "team" takes over and the patient is no longer a willing participant.
But we've been through this before, so her pain is less than others in her situation. She has people fighting for her, family who understand her wishes completely and are ferocious in the face of those who try and go against them.
And yet, dying is a complicated process, especially in this digital age. We thought we'd covered everything, the eventual message on her blog, her Facebook page, her twitter account, and for the most part we have. But there's always loose ends, personal things you forget to tell people, things that matter to you but didn't realize mattered to you until you lose access to them. This happened with her twitter account. Because she could no longer type easily, she let it go for a few days and a well meaning friend closed it down for her as he mistakenly thought those were her instructions. He feels terrible that he misread her instructions, but it's too late to get it back. It's gone.
So today I've contacted some of the people she was following in an attempt to at least give her access to the progress of people she cared about. It's a surprisingly long list. I'm not trying to recreate her account but merely becoming a conduit from them to her via me and my account. Most people have been completely understanding and others are suspicious and required some reassuring words before clicking that little follow button. Others, mostly from her community of breast cancer women, appear to have fallen off the radar. Their last posts were weeks ago and they don't answer my requests. It's not for me to ask her why these people matter to her but they do.
So here's my reason for writing this. For those of you who are support, family, friends with someone who is beginning the end game, please remember there are people like my friend. You may not understand why she needs to keep in touch with people who are strangers, you may not know about the many emails she received from complete strangers moved by her blog describing her path and the lessons learned and unlearned, you may not know she also has people she followed, read and connected with on a level only those who are going through such a thing can understand, but they matter to her.
I have promised to keep her virtual family connected with updates. It doesn't take much, just a few moments to post on her blog that she is with us but unable to type, that she is transitioning and wishing everyone love and happiness and the spiritual and personal growth that develops us as human beings. It doesn't take much and yet it means so much. There is a middle path to protecting the cherished privacy, the final intimate moments of life with those we love, and yet not losing touch with those who have come to care about us.
We, at the heart of ourselves as human beings, tend to measure everything on a personal level, so if we don't understand something it somehow becomes less in importance. And one thing we often fail at is understanding why and how someone cares about us. If it isn't a personal lover, a close friend, a familiar family member, we don't always see how much we matter to someone else. That's our last obstacle to overcome as members of the upright species: learning to accept there are those who love us, who care about us, even if we barely feel them inside our hearts. Our lack of awareness doesn't lessen what they feel. It just makes our planet a more lonely place for all of us.
So today I will contact more from the list of twitter friends and help make the world a less lonely place. And one day I hope my friends and family will do the same for me because we all live in this stew together, no matter how much we cling to our individual carrot or potato self.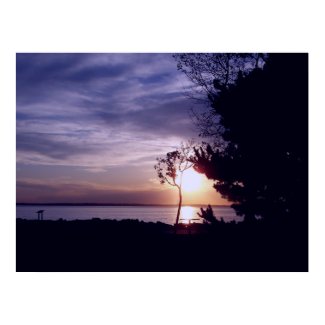 Lavender Skies Print
by
northwest_photograph
Shop for Boulevard park Posters online at
Zazzle.com